Countdown Me – moja prvá iPhone aplikácia
Nie je to o mne príliš známe, už určitú dobu sa venujem dizajnu iPhone aplikácií. Moja prvotina na App Store sa práve dožila svojho pokračovania. Používatelia sa zdajú byť veľmi spokojní. A vy ju môžete mať zadarmo.
Countdown Me je dizajnovo a používateľsky veľmi jednoduchá aplikácia. Primárnym účelom je zobrazovať zostávajúci čas do nejakej udalosti. V aplikácii si môžete vytvoriť 17 udalostí a ľahko budete mať prehľad, koľko dní vám zostáva do Vianoc, dovolenky, či deadline v práci.
Hlavnou devízou bola unikátna funkcia zobrazovania zostávajúcich dní priamo na ikone. Používateľ tak vôbec nepotrebuje aplikáciu zapnúť. Zostávajúce dni vybranej udalosti vidí priamo na ploche svojho iPhone.
Countdown Me 2
Nová verzia Countdown Me 2 je k dispozícii ako update zadarmo pre všetkých používateľov prvej verzie. Zásadnou novinkou je možnosť vytvárať odpočítavania ako udalosti, ktoré sú zapísané do vášho kalendára v iPhone. Je samozrejme možné si vybrať už vytvorené udalosti v kalendári a odpočítavať tie.
Vďaka integrácii s kalendárom môžete pomocou synchronizácie cez iTunes, iCloud, Excahnge a podobne mať svoje odpočítavania zapísané v kalendári vo vašom PC, alebo Macu.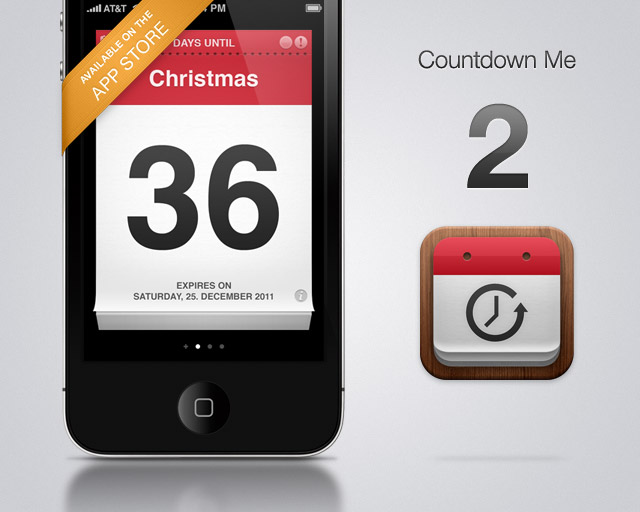 Či už ste businessman, podnikateľ sledujúci čas do deadline, študent čakajúci na skúškové, alebo sa iba tešíte na dovolenku, či finále majstrovstiev sveta, s Countdown Me budete mať ľahko a príjemne prehľad o zostávajúcom čase.
Pri návrhu rozhrania aplikácie som sa snažil byť striedmy a zameral som sa na čo najväčšiu jednoduchosť a zážitok z používania. Zároveň som chcel, aby to bola najatraktívnejšia countdown aplikácia na App Store, ktorej vzhľad bude pre používateľov príjemný.
Sám som bol trochu prekvapený, ľuďom sa Countdown Me väčšinou páči, o čom hovorí aj priemerné hodnotenie 4,5 hviezdičky na App Store (z piatich), to nie je málo.
Na oficiálnej stránke nájdete ďalšie informácie o Countdown Me. Ak si ho chcete vyskúšať, môžete si stiahnuť Countdown Me Lite zadarmo. Páči sa Vám? Som zvedavý na vaše názory.
Získajte Countdown Me 2 zadarmo
Okrem obmedzenej Lite verzie , môžete získať plnú verziu Countdown Me zadarmo. Splnením nasledujúcich pravidiel sa zapojíte do súťaže.
Follovujte na twitteri @riverstoneapps (značka pod ktorou tvoríme iPhone applikácie) – aby som Vás vedel kontaktovať
Tweetnite nasledujúci text (aby som vedel že chcete súťažiť):
Aj ja chcem Countdown Me iPhone aplikáciu od @riverstoneapps zadarmo: http://goo.gl/BG8BO
Plnú verziu Countdown Me 2 získajú traja náhodne vybraní ľudia. Je potrebné mať slovenský účet na App Store (inak Vám ju nedokážem poslať). Vyhodnotenie bude 28. septembra 2011. Nemám až tak veľa čitateľov, čiže Vaše šance sú veľmi reálne.
Komentáre